IN THIS ISSUE…
Nursery & Childcare, Line Dancing, Palm Sunday, Grace Cookbooks, Holy Week, Tochi Buddies, Easter Lilies
---
---
Common Grace is continuing with their series called Short Stories with Jesus, looking at the parables and what they mean for us today! Join us each week through Easter for a fresh look at a familiar story.
---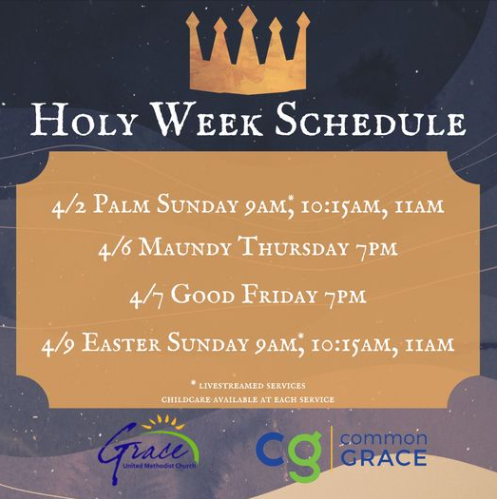 MAUNDY THURSDAY
Choir Cantata: "Who is Jesus?"
Celebration Choir & Instruments of Grace
Celebration of Holy CommunuionMAUNDY THURSDAY and GOOD FRIDAY
Childcare provided at both services.
---
Click Here to Purchase Easter Lilies
Contact Charlene: [email protected]
---
The Grace Extravaganza website is up and will be through the end of March. Please note that we have opened back up tickets for the LINE DANCING CLASS with Katie and Danny Goyer. This event is scheduled for Friday, April 28, 6:30-8:30 pm in the Grace Gathering Room. Using the link below, look for it under the "FIXED PRICE ITEMS" tab.
Donations can also still be made to FUND THE NEED, which will go toward parking lot and outdoor lighting renovation at Center of Grace, through the 31st of this month. Click on the link below and use the FUND THE NEED tab to make a donation.https://extravaganza2023.maxgiving.bid/about-usQuestions? Contact Liz Dunsing at
[email protected] or (913) 269-4233
---
---
We are excited to resume our annual medical, dental, and optical caravan this year as we continue our 34-year partnership with Tochimizolco, Puebla, Mexico. In the last three years, we've partnered with Dayspring UMC in Tempe, AZ to provide a year-round medical and dental clinic. This year, we'll be returning for the first time since before the pandemic to support the doctor and dentist in Tochi and provide free care for more than 500 people! You are a critical part of this medical/dental team by your prayers and financial support. Each year the needs are similar, but punctuated by something unusual that God has brought to the team. We'd be so grateful if you'd be willing to support the team with prayer or a donation. The teams have been convinced that prayers have helped solve difficult situations in the past, and will continue to do so in the future. If you'd like to give financially, you can find information at the Connect Hubs on Sunday morning, or you can use the link below, choose "Tochi Buddies" from the dropdown menu. Our team thanks you for your prayers, the opportunity to be in mission, and your financial consideration of the Tochimizolco Mission.
---