IN THIS ISSUE…
February 19th Worship, Basket Items, Ash Wednesday, GUMY Help Needed, Thank You from Nanette, Table Hosts, Give to UMCOR, Desserts Needed, Tickets on Sale, COG Hygiene List, Donations Needed
---
February 19th Worship
9:00 & 11:00 AM Traditional Worship
"Mountaintops"
Rev. Mike Chamberlain
Scripture Reading:
Old Testament: Exodus 24:12-18
Gospel: Matthew 17:1-9
10:15 AM Common Grace Modern Worship
"Kingdom's Kitchen"
Rev. Kyle Reynolds
Scripture:
Matthew 13:33
Zechariah 4:10
We're continuing with our new series called Short Stories with Jesus, looking at the parables and what they mean for us today! Join us each week through Easter for a fresh look at a familiar story.
Seventh Sunday after the Epiphany
---
---
Dear Members and Friends of Grace,
How 'bout those CHIEEEEEEFS?!!? That being said, I take this opportunity to offer you my heartfelt and humble thanks, most especially for the last two weeks of my service at Grace. To say I was overwhelmed by the gathering on January 22 would be a vast understatement. From the music to the words shared to the smiles and laughter to the wonderful offerings of love and cards and care – there simply aren't enough words, even for me, to share the depth of my gratitude. For friends from all the churches I had the honor of serving over my career, I am humbled to see and remember with you our time together.
Thank you also for your presence to worship God on my last Sunday. Your tolerance of my purple chucks, my attempt at a little humor, and the focus on God and the word of God was my dream for that last Sunday – and God and you fulfilled it beyond any expectation I might have had.
And let me also thank you for our lifetime in ministry together. God has been doing mighty things in all the ups and downs of our history from 1st United Methodist in downtown Olathe and south to Harrison, to Hope United Methodist new church start, to the discernment for those two communities to come together into Grace United Methodist with the development of a second campus Center of Grace Mission Center is nothing but the miraculous vision, commitment of faithful people, and fulfillment through the hand of God. To have had the opportunity to be a part of one of those chapters, and most specially to get to know and work alongside and create friendship and community with you is the greatest honor of my life.
I don't know what the future holds, but I know who holds the future for both of us. God is not and will not be done with ministry through Grace until God's reign is fulfilled on earth, even as it is in heaven. Blessings to you for the journey ahead, my prayers will not cease for you and the faith community of Grace I so love. I will move on to whatever the next chapter is that God has for me, and you will never be far from my heart. By God's grace and Spirit, we will always be connected through shared ministry and faith through the promise of Jesus and his life we seek to live together.
Peace to you, and always grace!
nanette
---
UMCOR (United Methodist Committee on Relief) is providing disaster relief for the earthquakes in Turkey and Syria. If you would like to contribute, you may use the link provided which will take you to the Grace website. Click on "Disaster Relief." Your contribution will be sent to UMCOR. Thank you!
---
$35 for adults and $7.50 for children
Purchase Extravaganza Tickets Here
---
Donations Needed for Grace Extravaganza:
"Once Upon a Time for Missions"
Donations are a critical part of the success of this event, and we need your help to secure donations for both silent and live auctions. Past donations have included vacation timeshares, hotel getaways, gift certificates, fine art, sports tickets, event tickets, dishes, toys, jewelry, classes and even puppies! New and antique items only please. Drop off donations in the church office through March 1st.
Contact Brad Mitchell at [email protected]
or (913) 484-5378.
For general inquiries, contact Liz Dunsing at [email protected]
or (913) 269-4233.
---
Shop now for the Grace Extravaganza Auction Baskets! Donated items need to be in the church office by Wednesday, February 22. You can shop the basket gift list at Target or at Amazon. Signs around the church will have post-its you can take with items to purchase, as well as QR codes for the gift lists. Thank you for your support of Grace Missions!
---
Grace Extravaganza GUMY Help Needed!
Grace Extravaganza is a church-wide fundraiser for mission work at GUMC with dinner, silent auction and a live auction. The youth ministry receives a substantial amount of funds from our generous and kind members who come to Grace Extravaganza.
Participation in GE is required for all students who are attending a mission trip this summer. Students help set up, take down, and serve our members throughout the night as a small way of saying "thank you" to our congregation.
Even if you are not sure if you are going on a mission trip, or you are certain you are not, we still need your help!
Not only is your presence a gift to the church, but you are deeply needed to help the evening run smoothly. GUMY Students help:
-serve dinner
-facilitate auction items
-help members get the proper item they've purchased
-run childcare
-greet members
-serve drinks and appetizers
-clean up dinner and the event as a whole
Thankful for all your help!
Let Us Know You Are Coming Here
---
---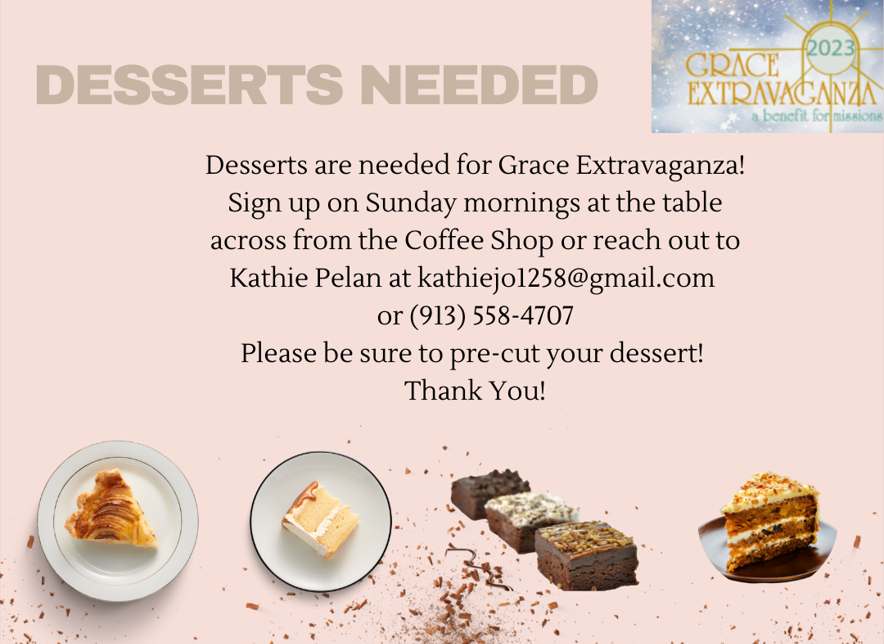 ---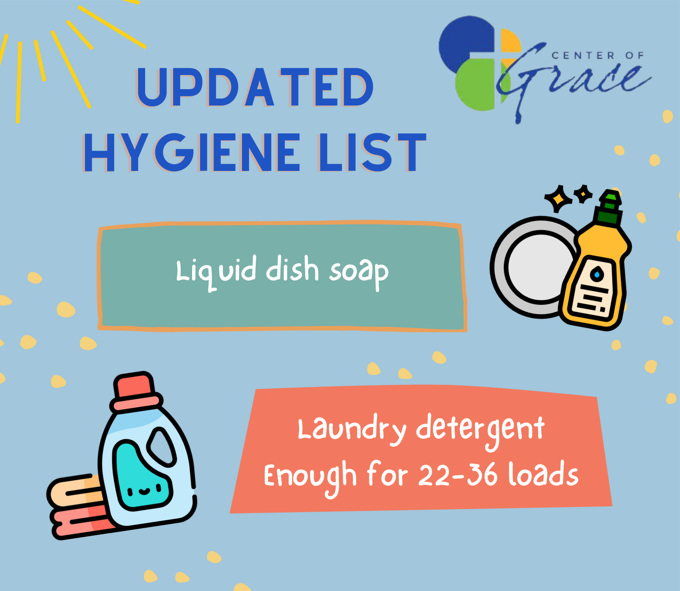 Hygiene items may be dropped off at the Center of Grace or brought to worship on Sunday mornings at the Ridgeview Campus. Look for the labeled box in the welcome area. Thank you!
---