IN THIS ISSUE…
Volunteer in Nursery, Coffee With Pastors, Holy Week, Church Office Closed, Friday Fellowship, Line Dancing
---
Volunteer with us on Easter weekend in the nursery. If you are able to worship one service and volunteer another service that would help us make families with children feel welcome!  Childcare/nursery is available Easter Sunday for children 5 years old and below. Contact Stacy Guerrero [email protected] if interested in volunteering on this special day!
---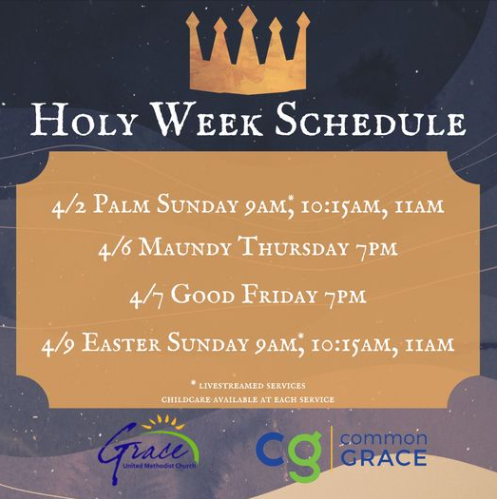 MAUNDY THURSDAY
Choir Cantata: "Who is Jesus?"
Celebration Choir & Instruments of Grace
Celebration of Holy Communion
MAUNDY THURSDAY and GOOD FRIDAY
Childcare provided at both services.
These services will not be livestreamed.
EASTER SUNDAY
There will not be any children's programming.
Nursery care will be available for children 5 years old and below.
---
---
We have opened back up tickets for the LINE DANCING CLASS with Katie and Danny Goyer. This event is scheduled for Friday, April 28, 6:30-8:30 pm in the Grace Gathering Room. Using the link below, look for it under the "FIXED PRICE ITEMS" tab.https://extravaganza2023.maxgiving.bid/about-usQuestions? Contact Liz Dunsing at [email protected] or (913) 269-4233
---
---
---