IN THIS ISSUE…
November 27th Worship, Living Nativity, Thanksgiving Offering, You Can Still Pledge!, Grace Kids, Good Faith Network, Alternative Gift Fair, Finance Update, Advent Boxes, Christmas Events, Church Office Closed
---
November 27th Worship – First Sunday of Advent
9:00 & 11:00 AM Traditional Worship
"This Changes Everything…A Single Match"
Rev. Wes Gately-Price
Scripture Readings:
Old Testament: Isaiah 9:2-7
Gospel: John 1:1-5, 9-14
First Sunday of Advent
As we enter this holiday season, we'll seek to uncover some of the wonder we've lost at the heart of Christmas. Honest Advent will illuminate the astonishing, hope-filled truth that the God who showed up in the hardest parts of our humanity is still showing up today.
10:15 AM Common Grace Modern Worship
"Honest Advent:  Vulnerability"
Rev. Kyle Reynolds
---
Click Here to Make a Thanksgiving Offering
---
---
Grace Alternative Gift Fair
Thank you to all who attended the Alternative Gift Fair Sunday, November 20th at Grace!  We are grateful for your support and generosity, which will serve the needs of our community near and far. There is still some time to shop for a gift for a friend or family member, and you can do so by clicking on the link below.
Here are the easy steps to shop online!
Step 1: Open and download the form called "Alternative Gift Fair Form." Read thru the gift choices and mark the number of gifts and the amount you would like to purchase.
Step 2: Total up your order. If you would like to give a card to the recipient of your gift, add an extra $1 for each card. Remember to double check your math.
Step 3: Pay for the gifts with a credit card on the website at www.graceumc.church Click the "Give Now" button in the upper right and choose the Alternative Gift Fair Fund to make this one time gift. Or mail a check to Grace with your form, see step 4. If you requested cards to give to your friend or family, expect to receive them in the mail in about a week.
Step 4: Scan, save and email the completed form to  or print and mail the completed form to: Grace United Methodist Church, 11485 S Ridgeview Rd. Olathe KS 66061
All donations will be transferred directly to the non-profit or organization.
---
---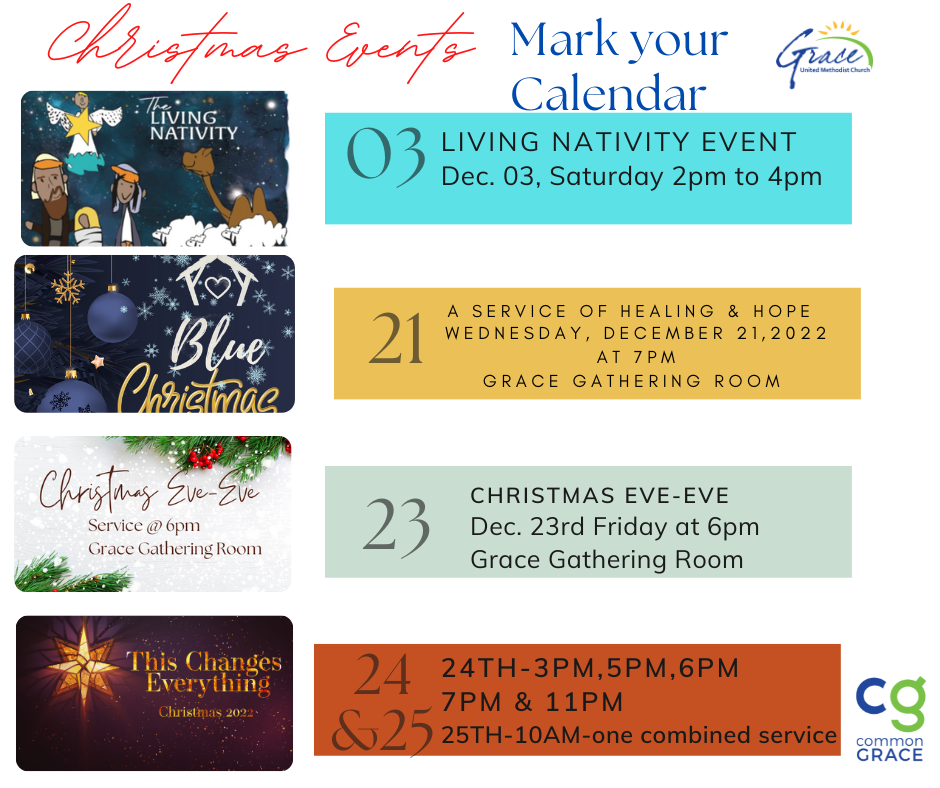 ---
Plan to be part of our Fourth Annual community-wide Living Nativity in just 12 days! You can join our preparation for December 3 right now by helping to get the word out! Will you head over to our event page and let us know you're coming, and share the event with your community? And, this week, will you invite at least one family member, neighbor, or friend to come to the event? The Living Nativity is a successful and impactful event each year because of the invitation and participation of people like you – so thank you for helping us spread the word!
---
2023 Stewardship Campaign – You Can Still Pledge!
---
This meeting will be an opportunity to choose which research committee, from the three issues, you would like to join. The issues are Affordable Housing, Homelessness, and Mental Health. You can decide if (and how much) you want to be involved in the research process this winter.  If you are able to attend, please click on the link below.
Click Here to Register Attendance
---
---
---