IN THIS ISSUE…
June 26th Worship, Team World Vision, July 3rd Grace Kids, Labyrinth Care, 4th & 5th Graders SOS, Summer Worship, VBS 202, New Theatre, Youth Summer Missions
---
Worship – June 26, 2022
8:00 & 9:00 AM Traditional Worship
"When It Rains, It Pours"
Rev. Dr. Nanette Roberts
Scripture Readings:
Old Testament: Genesis 7:11-12
Gospel:  Luke 8:22-25
10:15 AM Common Grace Modern Worship
Rev. Dr. Nanette Roberts
Third Sunday after Pentecost
---
Additional Opportunities to Connect
Chat With Pastors Nanette and Kyle – on break for the summer!
For a Small Group Connection
Join Grace Groups! Call the church office 913-859-0111
---
---
Our 4th and 5th graders are out serving in different parts of the community this week, Monday through Thursday, 8:30 am – 1:00 pm. Please pray for them and for their leaders, that they will be blessed as they are a blessing to others!
---
---
G.U.M.Y. Mission Trips Summer 2022!
The past two weeks have been jam-packed with activities for our students in service! In Omaha, students served with the non-profit "The Beautiful Gate," and helped organize and sort clothing, as well as serving at Scattered Joy, which is a ranch that rehabilitates animals and uses them in therapeutic settings with people. Students also served meals to the homeless at Open Door missions in downtown Omaha, and with a couple that engages in "Pop-Up Church," providing meals and clothing to their neighborhood.
In the Argentine district of KCK, students spent the morning engaging in manual labor to help residents avoid city fines, took a tour of Kansas City's involvement of the Underground Railroad, and in the afternoon helped run a summer camp for students in the area.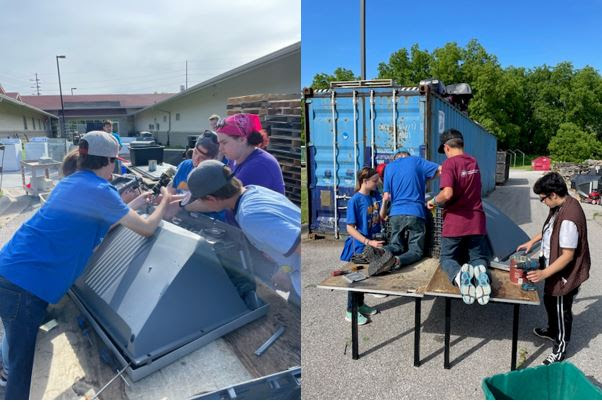 ---
TEAM WORLD VISION
We're kicking off our FOURTH SEASON of Grace Runners and Team World Vision – and you can join in! We partner with the KC Chapter of TWV to move our feet and provide clean water for children in Africa. You can be a part of this supportive community, train to walk or run a full or half marathon in the KC Marathon, go further than you ever thought possible – and help support some of the most vulnerable kids in the world. Experience isn't necessary and all are welcome. To find out more you can text GUMCINFO to 44-888 or reach out to Shara Embree at .
Hope to see you on the trail!
---
Labyrinth Care
Did you know that gardening can be a form of prayer—and like singing—weeding the Labyrinth is like praying twice? The Labyrinth Care committee is looking for volunteers to spend about an hour or two a month tending and weeding the Labyrinth. Please contact Pastor Cheryl or Robin Olson, if you are interested in helping or would like more information, or sign up below using Sign Up Genius.
---
---
---