IN THIS ISSUE…
What Next? Sermon Series, Youth Summer Missions, Common Grace News, Finance Committee, Summer Worship Schedule, Center of Grace Donations, School Supplies Needed
---
Ninth Sunday after Pentecost – July 25
8:00 & 9:15 a.m. In-person Traditional Worship
"What Next? Reconnect with the World"
Rev. Dr. Nanette Roberts
Scripture Readings
New Testament: Ephesians 3:16-19
Gospel: John 6:1-9
---
We're excited to announce that Common Grace is moving to the Ridgeview campus this fall! Through much prayer and thoughtful conversation, the leadership of Common Grace has begun to think about geography differently and we believe we can cast a wider net, connect with more people, and increase sustainability with a more permanent location. We also think there are great benefits to being able to make a space our own and freeing up the resources required to sustain a mobile church. We'll invest those resources to further the purpose of Common Grace as we continue to meet new people in new ways. We also believe this will create new opportunities and greater continuity for all of Grace's children and youth. Hear Pastor Kyle talk more about it in this video!
We are excited for this change and the possibilities that lie ahead! This move will invite us to make small adjustments to our vision, but the heartbeat and core identity of Common Grace will remain unchanged as we move to a new location. As we make the transition, we'll invite you to be in prayer with Common Grace and to stay tuned for more information. We will host a final service and celebration of our 2.5-year home at the Ball Conference Center in mid-August, and then kickoff at Ridgeview on September 12. If you have questions, or want to hear more about this, reach out to Pastor Kyle () or Pastor Nanette!
---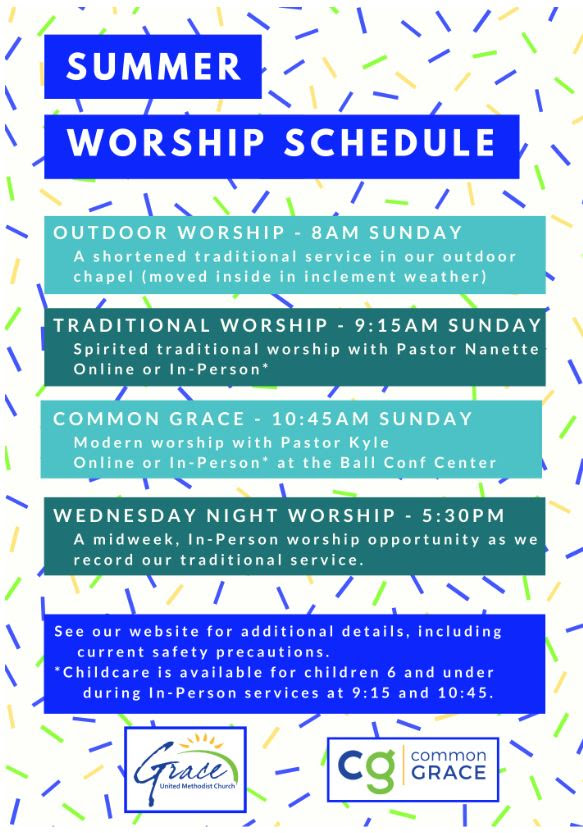 WORSHIP UPDATE
As we continue with in-person worship celebrations, we are projecting lyrics during our indoor services. If you would like to sing during church, we would encourage you to wear a mask during the singing portion of services. We will also continue to encourage people who are not fully vaccinated and anyone who feels more comfortable continuing to wear masks to do so, and we will be gracious and honor one another as we make our way through this time. We appreciate your patience and understanding as we continue to try to create a safe space for all people AND be the church together!
Additional Opportunities to Connect
Chat With Pastors Nanette and Kyle 
Tuesday afternoons at 3:00pm via Facebook
For a Small Group Connection
Join Grace Groups!  Contact: Shawn Foreman 
---

New pencils, new paper, new crayons!! A new backpack full of supplies gives a child a feeling of excitement and hope. Grace will be handing out backpacks to children in Boys & Girls Club, and other children in our community at the end of July. Each backpack costs approximately $25 and a lot of donations are needed. The best way to help these children is by sending or dropping off a donation in the offering plate or visit the backpack donation table in the Narthex for more information about specific needs and school supply lists by grade. Supplies may be dropped off at the Backpack table or in the office. Thank you for helping the children and youth head into another successful school year.
---
YOUTH – July Mission Opportunity
High School Stay at Home//Serve the City: 7/26-7/28 
We still have open spots for our high school mission work! Our Serve the City options are day-trips only. We are continuing our work in the Argentine District of KCK!
---
UPDATE FROM YOUR FINANCE COMMITTEE
Transparency is important to us, and we have updated our policies about how we provide access to financial information. Any member of Grace United Methodist Church may request copies of our annual budget, monthly financial documents, or copies of the Finance Committee meeting minutes by emailing Mike Pelan at .  Annual budgets will continue to be approved at each year's Charge Conference in January.
---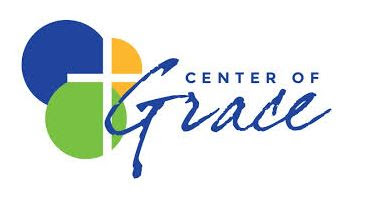 Can You Provide Any of These Items?
Center of Grace is in need of the following donations:
– small liquid laundry detergent,
– small liquid dish soap
– regular size shampoo and conditioner
– bath towels
Please bring these donations to the Center of Grace and drop off in the cart by the front door M-F 8:30 a.m. – Noon and 1:00-4:00 p.m.
---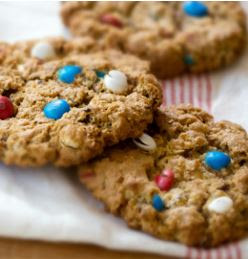 Cookies Needed!
The Center of Grace is in need of cookies to give out with their to-go meals. Please bake or buy some delicious cookies and place 2 cookies in each baggie. You can drop your goodies off at the Center M-F 8:30-Noon and 1:00-4:00 p.m. Thank you!
---
CLOTHING CLOSET TEMPORARILY CLOSED
The Clothes Closet at the Center of Grace is temporarily closed due to construction. The asphalt between the buildings is being removed and a trench will be dug to install new water and sewer lines. WE WILL NOT BE ACCEPTING CLOTHING DONATIONS DURING THIS TIME. If you have questions please call us at 913-764-1353. Thank you!