Scripture Readings for Sunday, December 13
Old Testament: Isaiah 61:10-11
Gospel: Luke 1:43-55
On-Line Worship
Pastor Nanette's Traditional Service at 9:15AM
Pastor Kyle's Common Grace Contemporary Service at 10:45AM 
Join us on Facebook, our website or YouTube as we stream at those times.  If you miss seeing us on Sunday, the sermons will be posted later on the Grace Website, YouTube, Facebook and our Grace App.
CHRISTMAS EVE On-Line Worship
Common Grace 1:00 p.m.
Traditional Service 7:00 p.m.
Additional Opportunities to Connect 
Chat With Pastors Nanette and Kyle 
Tuesday afternoons at 3:00pm via Facebook
Virtual Coffee Talk With Pastor Kyle
Thursday afternoons from 4:00 to 5:15 via ZOOM
For a Small Group Connection
Join Grace Groups!  Contact: Shawn Foreman
---
Friends,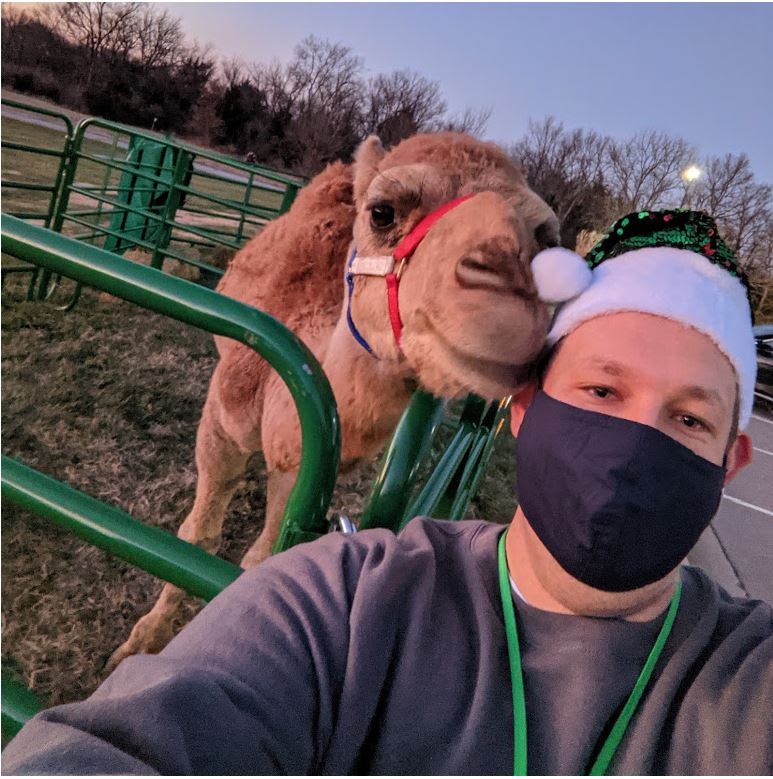 Thank you so much for helping us make our Living Nativity a HUGE success! I am so grateful for you who shared about the event and invited friends; you who came out and had a great time; and you who donated items and picked up an angel tree tag.  I am especially grateful for the people who worked to make this happen – including costume makers, set builders, cup washers, cocoa mixers, Advent bag stuffers, registration workers, mission collectors, and, of course, our actors – who believed enough in helping people celebrate Christmas with joy and meaning that they were willing to bring the story to life.
A special word of thanks to volunteers Josh Lewis, who coordinated the event, Hope Faflick Reynolds, who handled script and safety, and Allison Farrel, who created the beautiful graphic design and marketing materials. In such an abnormal year, it is a great gift for our community that so many people would work together to create a safe space for joy and wonder. Thank you for being a part of it! I heard from many what a great time they had – including Moses the Camel, who whispered in my ear at the end of the day to tell me how much fun he had!
-Pastor Kyle
---
This Advent season, help us decorate the church by buying a poinsettia in honor or memory of someone of your choice.
Poinsettias are 8″ plants, for $20 each. After they've been used to beautify our virtual church services for the season, they will be available for pickup on December 17th -18th to decorate your own home.
---
Weekly Manna: A Small Group Starting January 2021!
Spend an hour a week in this new group as you revitalize your relationship with God using "The Upper Room Disciplines."  Based on the Revised Common Lectionary, Disciplines is a three-year cycle of Sunday scripture readings with brief, insightful devotions written by leaders from diverse Christian traditions.  The hour will be spent reading the scripture and sharing our responses to the daily meditations.  This group will start on Thursday, January 7 at 9 am and meet weekly via Zoom until we can safely meet in person.  Register by responding to Regina () or Pastor Cheryl ().  You will be notified by email when your book is ready to be picked up in the office at a cost of $15.
The group will be limited to 12 people, so if you are interested you will want to sign up soon. When it is safe, we will meet in the coffee shop at the church.  Until then, we will connect by ZOOM.  Begin the New Year anew with weekly manna for the journey.
---

LAST WEEK TO ADOPT AN ANGEL!
We still have some Toy requests  on the Amazon List here:  https://www.amazon.com/hz/wishlist/ls/2T5TAS63Z4C2J?ref_=wl_share
Gift card requests can be found on the outdoor arbor in the Grace Church parking lot —  OR send an email to  and she will email you an Angel Tag!
If you would like to send a donation, please mail checks  to Grace Church and list "Angel Tree" in the memo line.
Gifts are due back by Dec. 14th — Find Details on Gift drop-off here:  https://graceumc.church/2020/11/23/2020-virtual-angel-tree/
Thank you all so much for helping with this mission during this challenging year!!
---

THANK YOU GRACE…
…for your response to the 2021 Stewardship Campaign.  Your support of our 2021 Stewardship Campaign is greatly appreciated and will go far to help us do the work of the church.  If you have not yet sent in your "Intent to Give" card, it's not too late.  If you did not receive one please contact the church office and we will mail one out to you OR you can contact Mike Pelan and he will take your giving information over the phone.
As you prayerfully contemplate your 2021 "Intent to Give", please know that we continue to use your financial gifts in the most cost-efficient manner possible to reach the greatest numbers possible.  No gift is too small nor too large for the work of the Spirit in this place.  We need you and we need one another for God's work and will to be done.  Thank you for your continued generosity.
---

DID YOU KNOW…..
Under the CARES Act, part of the federal government's COVID-19 relief program that Congress passed in March of 2020, individual taxpayers can take a deduction of up to $300 for monetary donations made in 2020 even if you do not itemize deductions on your 2020 tax returns.  This opportunity only applies to the 2020 tax year, and donations must be made by December 31, 2020 to be applicable.  Therefore, if you are still considering a monetary gift to Grace Church or the Center of Grace in 2020, this is one way where your gift may reduce your tax burden even if you don't itemize deductions.  For more information, click on the following link www.nytimes.com/2020/11/20/your-money/charity-deductions-taxes-coronavirus.html, go to the IRS website www.irs.gov, or contact your tax advisor.
---
Struggling to find that perfect Christmas gift for your loved one? Consider other alternatives to buying "stuff". Find a gift that keeps on giving the whole year from the Alternative Gift Fair! Help raise needed funds for nonprofit organizations while showing your appreciation for the special people in your life. Give a gift that gives twice!  Purchase a gift from the Alternative Gift Fair online this year from the comfort of home. It's a win-win! Go to www.graceumc.church to learn more!
---
LET KOHLS BE OUR CENTER OF GRACE SECRET SANTA 
    We've all had Kohls cash that expired. If you are like me, I have just bought what I need and end up letting Kohls Cash expire without using it.
How about if we put those Kohls Cash dollars to work to buy Christmas gifts, coats or clothing for our kids at Center of Grace.  Our plan would be for those that would like to contribute extra Kohls Cash to this very worthy cause, to email Monica at the Center of Grace [email protected]center.  You can upload a picture of actual Kohls Cash or if you shop online, you can forward an email that contains your Kohls Cash code number. We will then work off a master list of gift needs, whether clothing or toys for families in need to purchase the needed items.
These are very hard times during the pandemic with job losses that have left our community with more need than ever.  Let's put those Kohls Cash dollars to work in bringing a Merry Christmas for our friends that need us to reach out at this great time of need.
---
MORE COOKIES PLEASE!
We continue to give out to-go meals but we have run out of cookies.  Please bake or buy some yummy cookies and put 2 cookies in a baggie.  You can drop them off at the Center of Grace M-F 9-12 and 1-4. Thank you