On-Line Worship
Pastor Nanette's Traditional Service at 9:15AM
Pastor Kyle's Common Grace Contemporary Service at 10:45AM 
Join us on Facebook, our website or YouTube as we stream at those times.  If you miss seeing us on Sunday, the sermons will be posted later on the Grace Website, YouTube, Facebook and our Grace App.
Additional Opportunities to Connect
Chat With Pastors Nanette and Kyle 
Tuesday afternoons at 3:00pm via Facebook
Virtual Coffee Talk With Pastor Kyle
Thursday afternoons from 4:00 to 5:15 via ZOOM
For a Small Group Connection
Join Grace Groups!  Contact: Shawn Foreman
---
Outdoor Worship Continues! Yeah!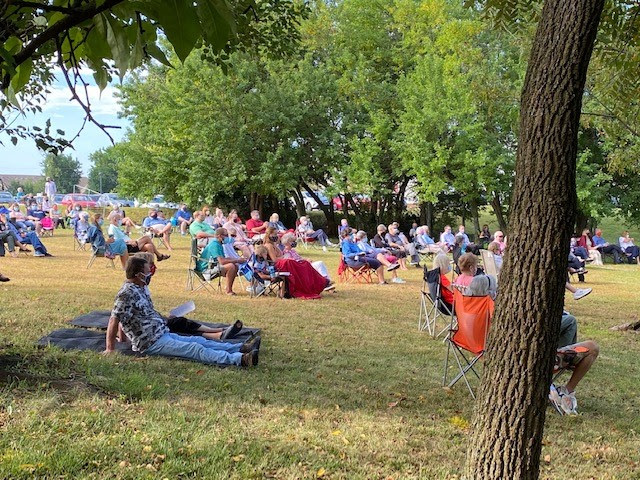 What a beautiful morning to be together in worship! We will continue to hold services in our outdoor worship area as long as weather permits. Please review the reminders below for information regarding expectations for spending Sunday mornings in worship.
Please note:
OUR ON-LINE SERVICES WILL CONTINUE WITHOUT PAUSE.
Whether we worship together on-line, drive-in, or with a new opportunity outdoors, we remain a community of God's Grace!!!
---

Nanette's Book Study
SERMON on the MOUNT:
A Beginner's Guide
to the Kingdom of Heaven
Amy-Jill Levine
Age Group:  All Adults
Location:  Zoom
Cost $15 for Book
Leader:  Rev. Dr. Nanette Roberts
In this six-week study based on Matthew, 5-7, Dr. Amy-Jill Levine explores the major topics in the most popular sermon ever delivered.  "The Sermon on the Mount tells us what we need to do in order to have one foot in the kingdom of heaven.  More than that, it tells us that this kingdom is already available to us, already manifested when we enact God's will on earth as it is done in heaven."
Register at graceumc.church or email Shawn Foreman at  or click on the class link below to be taken directly to the registration page.  All classes will meet via Zoom until we can meet in-person safely.  Books can be picked-up at the church office; please wear a mask.Age Group: All Adults
Cost:  $15 for book
Leader:  Rev. Dr. Nanette Roberts
Meeting Day and Times Via Zoom:
Thursday mornings, 9:00 – 10:00 a.m.  (September 17– October 22)
……………….. 
Thursday mornings, 10:30 – 11:30 a.m.  (September 17 – October 22)
……………….. 
 Monday evenings, 6:00 – 7:00 p.m. (September 21 – October 26th)
Disciple Bible Study Classes
Registration is now open for our fall Disciple Bible Study Classes.
Age Group:  All Adults
Class Location:  Zoom
Cost:  $40 for Study Manual
Leader:  Shawn Foreman
Register now at graceumc.church, email Shawn Foreman at , OR click the link on your selected class below.
All classes will meet via Zoom until we can meet in-person safely.  Books can be picked-up at the church office.
Please wear a mask.Disciple 1:  Becoming Disciples through Bible Study
Sunday, 6:30 – 8:30 p.m. (September 20 – May 23)
OR
Tuesday, 6:30 – 8:30 p.m. (September 22 – May 25)
Disciple 1 is a 34-week course in which participants read and study the Bible in small, committed groups for the purposes of learning and transformation.  The study surveys both the Old and New Testaments as participants deepen their awareness of the whole biblical story and have the opportunity to discuss and learn more about how God calls us to respond to that story today.
This first Disciple study serves as the basis for the other studies in the Disciple family.Disciple 2:  Into the Word, Into the World
Wednesday, 6:30 – 8:30 p.m. (September 23 – May 26)
This 32-week study takes a deeper examination of Genesis, Exodus, Luke, and Acts emphasizing the rhythm of coming to God and going for God…approaching all experiences of life as opportunities for faithful witness and service.
Disciple 1 is a prerequisite for this class.Disciple 3:  Remember Who You Are
Monday, 6:30 – 8:30 p.m. (September 21 – May 17)
This study uses the Old Testament prophets and the letters of Paul to examine the connection between memory and identity as the people of God.  Participants will find common themes, including calls to remember, calls to repent, calls for renewal and calls for community
Disciple 1 is a prerequisite for this class.
Disciple 4:  Under the Tree of Life
Monday morning, 9:00-11:00 a.m. (September 21 – May 17)
Under the Tree of Life (32 weeks) explores the Writings—Ruth, 1 and 2 Chronicles, Ezra, Nehemiah, Esther, Job, Psalms, Proverbs, Ecclesiastes, Song of Solomon, Lamentations, and Daniel. (Writings include all the Old Testament books not in Torah or the Prophets.)  New Testament Scriptures include the Gospel of John; 1,2,3 John; James; Jude; and Revelation.  Scripture in this study speaks to both heart and mind and carries the reader toward the climax of the message and completion of the promise.
Disciple 1 is a prerequisite for this class.
---
Email Pastor Sylvia Here
---
Grace Kids Small Groups
Grace Kids is looking for extra hands this fall to support families! For questions or to sign up to help, e-mail Mona Candea ().
---


Thanks to all our Volunteers
Many hours of time were donated to turn the COG Sanctuary into a fabulous multi-purpose room. The Sanctuary was the main worship area for Grace for 40 years.  During that time many lives were changed and many friendships were created in this room.  Look over the pictures to see how far this space has come and just imagine how many more wonderful things can happen there.
HUGE, HUGE, HUGE thanks goes to the volunteers that came to the Center and spent many hours, and in some cases many days making this happen.  Jerry Albright (who took on the unofficial job of foreman), Brad Delay (the pew guru), JT Land (who redid the lighting in the room), Cliff Flowers, Tom McCormally, Liz Newman, Walt Cooper, Loosha Quick, Vincent Quick, Amy Nadler. Gary Hunerdosse, Bill Sedgwick, Michael Biasella, Linda Cooper, Kim Stith, Mann Gutierrez, Jo Hunerdosse, Mary Beth Vega, Phil Mein, Kathie Pelan, Chris Pelan, Mark Sunderson, Lorene Boyd, Gary Chura and Miguel Ruelas.  I am sure that names were missed due to all the different work dates, so please forgive the omission and know that you are appreciated.
Great thanks also goes to everyone that gave at Grace Extravaganza.  Without your gifts this could not have happened!