Grace in the Un-Graceful
Rev. Dr. Nanette Roberts
Sunday, July 19, 2020
On-Line Worship
Pastor Nanette's Traditional Service at 9:15AM
Pastor Kyle's Common Grace Contemporary Service at 10:45AM 
Join us on Facebook, our website or YouTube as we stream at those times.  If you miss seeing us on Sunday, the sermons will be posted later on the Grace Website, YouTube, Facebook and our Grace App.
Additional Opportunities to Connect 
Chat With Pastors Nanette and Kyle 
Tuesday afternoons at 3:00pm via Facebook
Virtual Coffee Talk With Pastor Kyle
Thursday afternoons from 4:00 to 5:15 via ZOOM
For a Small Group Connection
Join Grace Groups!  Contact: Shawn Foreman
---
Thank You
With KPG Summer Camp in full swing, the KPG Staff came in this morning to the most wonderful greeting.
Big kudos to the "Cheer Fairies" who surprised the KPG Staff by spreading their cheer and sending love to our Staff.
Like a warm hug, these greetings are always a welcome sight. But during these times of COVID continuing well past what we ever expected, it's especially wonderful to receive the affirmation that our teachers efforts are truly appreciated. I know the smiles in the rooms will be contagious today.
YOU ROCK … Whoever you are!!!
NEIGHBORHOOD SUMMER VBS
A special thanks goes out to these wonderful volunteers who have opened their homes and donated their time, talent and energy to host VBS throughout the city this summer.  Thank you for taking the time to invest in the lives of families in your circle of influence and giving them the opportunity to learn about the goodness of our God.
Elizabeth Dixon
Kelli Cox
Nikki Mallinckrodt
Patty Tanquary
Erin Webb
Heather Harber
Barb Hendricks
Megan Irvine
Laura Jackson
Jennifer Madden
Tracey Nicodemus
Ernie Foreman
Kathy Kochersperger
Anna Purcell
Ashley Renfrew
Lisa Roe
Ashley Shaffer
---
It's not too late to join the Summer Family Challenge! Click on the Challenge banner above to download the guide and make a plan with your family to earn points while making memories! There are a variety of activities from reading a book, to downloading an app, to counting how many miles you bike or ride, to raising money for Center of Grace.  The top three families with the most points will earn a special prize!   All other participating families will be entered into a drawing to win a prize, too.
---
UPCOMING GUMY EVENT
Today – Thursday
Check out our current youth opportunity to get involved and serve our community.  Sleep at Home//Serve the City Missional Journeys in partnership with YouthFront. This opportunity allows students to sleep at home, meet at worksite in the Argentine neighborhood of Kansas City, KS to engage in work while abiding by healthy and safe guidelines.
July 20-23: High School
Register Here
---
Thank you to all who took our worship style survey. Your participation helps the work that our summer intern, Grace Woods, is doing and gives insight to how we do worship at Grace UMC.
---
PROGRESS!!! Center Of Grace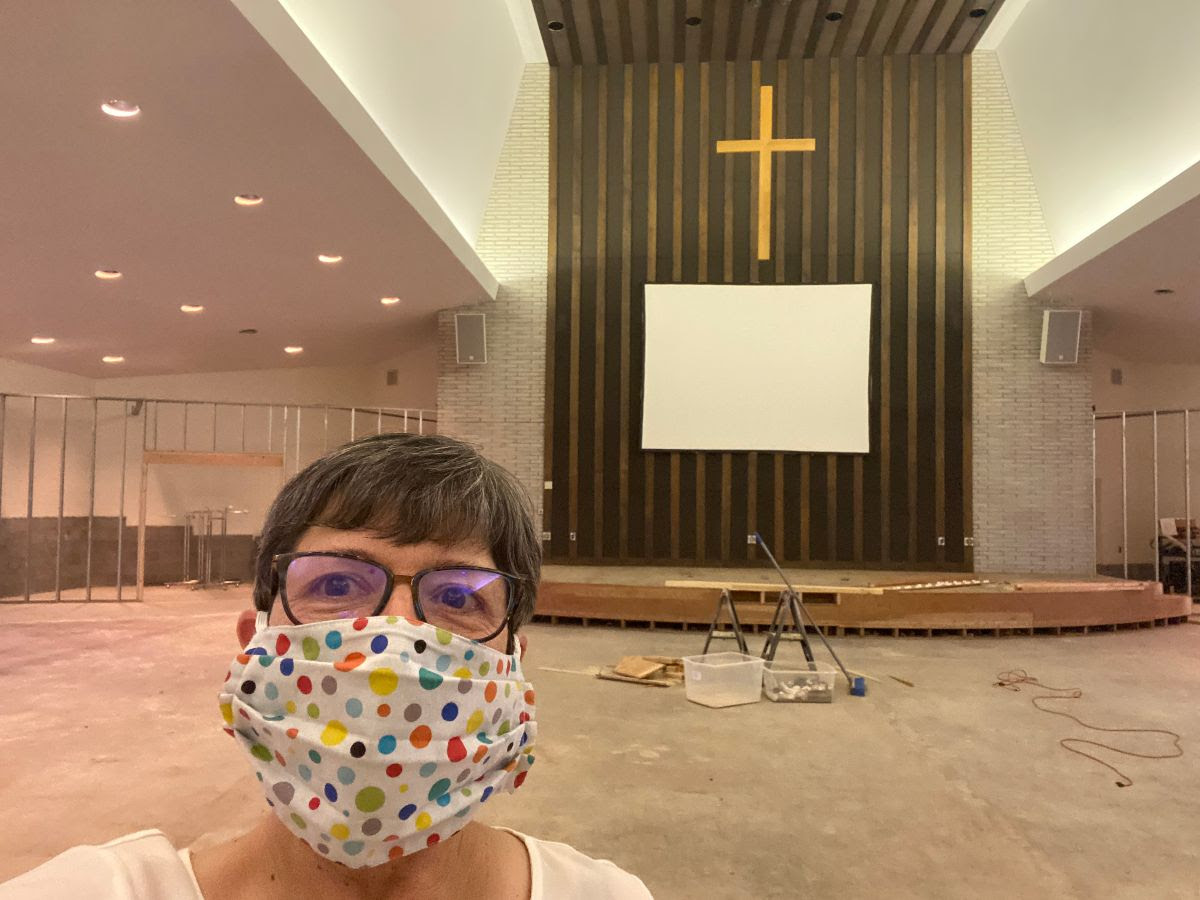 Work Work Work!
We have been such busy bees this month.  With the help of wonderful Grace volunteers, we are renovating the old sanctuary. The funds for this project came from the Grace Extravaganza Fund-the-Need. This beautiful space is being transformed into a multi-purpose room, much like Grace Gathering.   We reported last week on how the pews are gone along with the old green carpet and communion rails.  Everything is now prepared for PAINT!!
Once again our wonderful Grace volunteers have stepped up and have been busy painting this past weekend.  My how the place shines!
---