---
NOW?
We are still facing unknowns in our world, we are still together as a community of faith, and we are still called to do the work of the living Christ in our midst, so what NOW? That's the title of the Sermon Series for what's called the Great Fifty Days leading to Pentecost.
May 24 – Scriptures: 1 Peter 5:6-11; Luke 24:44-53
Sermon:  Now?  Ascending!
Invite your friends, neighbors, and coworkers to worship on-line with you this Sunday. We are in a season where people need a message of hope more than ever.
---
We will continue to worship On-Line
Pastor Nanette's Traditional Service  9:15 AM
Pastor Kyle's Common Grace Contemporary Service 10:45 AM 
Join us on Facebook, our website or YouTube as we stream at those times.  If you miss seeing us on Sunday, the sermons will be posted later on the Grace Website, YouTube, Facebook and our Grace App.
Additional Opportunities to Connect:
Chat With Pastors Nanette and Kyle Tuesday afternoons at 3:00pm via Facebook
Pastor Michael's Podcast Wednesday evenings at 6:00pm, tune in via our Website or YouTube
Virtual Coffee Talk With Pastor Kyle Thursday afternoons from 4:00 to 5:30 via ZOOM  Zoom Meeting
---
Mission in the City
Thanks to the donations made to Fund the Need at Grace Extravaganza we are ready to begin the rehab of the Sanctuary at the Center of Grace.  This will give COG more flexibility in using the space – especially during this time of social distancing being a priority.
Phase One
If you love demolition and taking things apart, we've got an opportunity for you!!  We will begin demolition of the choir lofts, the A/V booth and taking pews apart during the weeks of May 26th (Tuesday-Thursday) and June 1st (Monday – Thursday) mornings from 9:00-12:00.
Phase Two
We will announce signups for the second phase of framing and rebuilding storage areas and a new A/V booth when ready.
Phase Three
Last, but certainly not least, we will need painters during phase three of the process.
PLEASE NOTE 
To maintain social distancing we will only be able to have 8 volunteers each day.  Therefore, if you are interested, please contact Kristi Cooper at  or call 913-669-3131 to sign up.
There is a lot of work to be done and we greatly appreciate your help.
---
Free Pews From COG
As the sanctuary at the Center of Grace is being rehabbed into a more flexible space, we find that we have over 100 pews from 6' to 8' long made of beautiful thick oak.  If you would be interested in having one of these pews for your home or could repurpose the wood, please contact Kristi Cooper at  or 913-669-3131 or call the Center of Grace at 913-764-1353.
---
NEW THIS SUMMER
Neighborhood VBS Kits!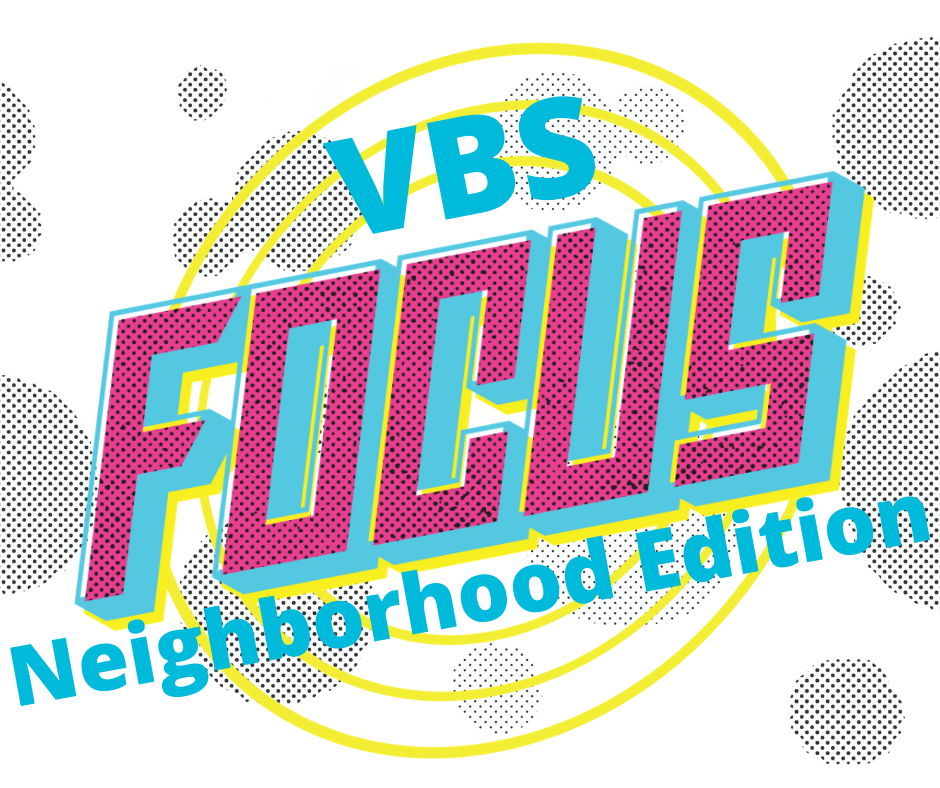 Jesus taught us the greatest commandment is to love God and love our neighbor. This summer we are equipping you to do just this with our FOCUS VBS Neighborhood Edition!
This year instead of asking you to come to us, we are asking you to take the fun to your neighborhood! With FOCUS VBS kids dive deeper into their faith by putting the FOCUS on Loving God. Preschoolers through preteens will have a blast as they discover how to trust in what they CAN'T see because of what they CAN see.
Now what about the Love your neighbor part? This year we are putting together VBS kits with everything you need to gather anywhere from 5-15 kids together in your backyards, front yards, garages, cul-de-sacs and porches – wherever you want –  to experience all the fun VBS has to offer.
With each kit you will receive access to online praise music and bible stories presented in an engaging and relevant way.  In addition, you will receive all the supplies you need for fun crafts, challenging STEM activities and exciting games to reinforce biblical truths kids are learning.
We have put in fun surprise swag for each kid as well as a Host Guide outlining everything you need to know (including fun snack ideas) to make this VBS experience the  best for you and your neighborhood. With each kit registration you will also receive access to live and online training videos from the Next Gen staff to answer any question you may have. It has never been easier to bring faith and fun together in the neighborhood.
In addition to hosting a gathering we have other ways you can VOLUNTEER TO HELP US:
Prayer Partner – You will be assigned a specific neighborhood gathering/family/kids to pray for!
Kit Assembly – Join us at the church in late June (following social distancing recommendations) to assemble all of our VBS Neighborhood Kits!
Craft supply prep work –We provide supplies you help prep in your home! NOTE: one prep item requires you to have a drill.
Volunteer to be assigned to a neighborhood gathering and help the host!
You can see more details about volunteer opportunities and register for your free VBS neighborhood Kit online at www.tiny.cc/focusvbs
Starting June 28th Kits will be available for pick up. We invite you to host your Neighborhood VBS anytime in July! We can't wait to see how much fun you have this summer Loving God and Loving your Neighbor.
---
Attention Graduates!
In the next Grace Notes, we would like to recognize and honor the graduates in the Class of 2020 that are in our church community.
Please let us know right away if you have or know of a 2020 graduate from either high school or college.  We would like to recognize them by name and school they graduated from .  Please email your information to 
---
The Upper Room
We continue to look for new ways to support our members spiritual health.  We are happy to announce that The Upper Room has provided a solution to access their resources. They are providing the May/June 2020 issue of The Upper Room magazine, both in English and Spanish, for download at no cost to you.
---
Pastoral & Spiritual Support
---
The Center of Grace
The Center of Grace continues to reach out to help our community
Boys and Girls Club is preparing and giving out food for kids 1-18 years old
Monday – Friday:
Breakfast (8:00 – 9:00 am)
Lunch 11:30 am – 1:00 pm
Every week COG is giving out an average of 250 free to-go meals on Wednesdays and Thursdays from 5:30 to 6:30 pm
Each week we are distributing an average of 25 personal hygiene kits with bar soap, shampoo, conditioner, lotion, shaving cream, razors, tampons, pads, laundry soap, liquid dish soap, and toilet paper
We are assisting Olathe residents with rent and utilities.  To date we have helped Olathe residents with $10,890 with rent and utilities
What generous hearts we have here at Grace.  We requested help and our wonderful bakers responded in love and kindness.  We have received plenty of delicious baked goods for inclusion in our Wednesday and Thursday evening to-go meals.  Thank you all for your quick response.  We are truly blessed with generous hearts and hands of Jesus here at Grace.
Please continue to drop off items for hygiene kits.
You can simply place them on the donation cart at the front door.
Don't forget our COVID19 Relief Fund on our website www.centerofgrace.center
Thank you for doing what you do to serve our neighbors in need.
---
ATTENTION SEWERS
We Have an Additional Need For Masks
We are starting preparations to meet again as a church.  Although it is still a bit in the future, we are making preparations now.  One of the things we will be asking is that everyone wear a mask when meeting together.  We are asking the sewers in our congregation if they would be willing to make and donate masks for usage during these times.  If you could begin sewing them now and hang on to them until a future date, we will let you know when we will be collecting them at the church.  Thank you in advance for your all you do. Know that we appreciate all you have done as a church to step up and volunteer during this trying season.
PS:  Don't forget our next generation.  If you could sew some smaller masks for use by the families with kids.

Face Mask Pattern