Create Meetings
Reach out and ask how you can pray specifically for your neighbors. Get Creative! Invite folks to "meet" over  facetime/zoom/skype.  If you schedule it at dinner time, you can "share" a meal. Picnic in your own driveway.  Plan to "meet" your neighbors for dinner at the end of your respective driveways.  Bring out your lawn chairs and sip your drink outside "with" your neighbors from everyone's own backyard.  The fresh air, sunshine, friendly waves and "How ya do'in?"  can be a real perk-me-up blessing to someone.
---
Sermon Series
NOW?
We are still facing unknowns in our world, we are still together as a community of faith, and we are still called to do the work of the living Christ in our midst, so what NOW? That's the title of the Sermon Series for what's called the Great Fifty Days leading to Pentecost.
May 17 – Scriptures: 1 Peter 3:8-11; Luke 24:24-35
Sermon:  Now? The Inviting!
May 24 – Scriptures: 1 Peter 5:6-11; Luke 24:44-53
Sermon:  Now?  Ascending!
Invite your friends, neighbors, and coworkers to worship on-line with you this Sunday. We are in a season where people need a message of hope more than ever.
We will continue to worship On-Line
Pastor Nanette's Traditional Service  9:15 AM
Pastor Kyle's Common Grace Contemporary Service 10:45 AM 
Join us on Facebook, our website or YouTube as we stream at those times.  If you miss seeing us on Sunday, the sermons will be posted later on the Grace Website, YouTube, Facebook and our Grace App.
---
Chat with the Pastors
Come join this weekly meeting place for a good old fashioned discussion on the things that are most on your mind today.  With things changing on a daily basis, grab your favorite beverage, pull up a chair (or the couch),  and let's get together for an online "chat" on Facebook …  Come with your questions!  Pastors Nanette and Kyle are sitting down for an informal conversational style question and answering session for the questions you have most on your mind today. As you type in your questions in the comment section, Nanette and Kyle will discuss and answer as many of your questions as they have time for.
---
Wednesday Podcast with Pastor Michael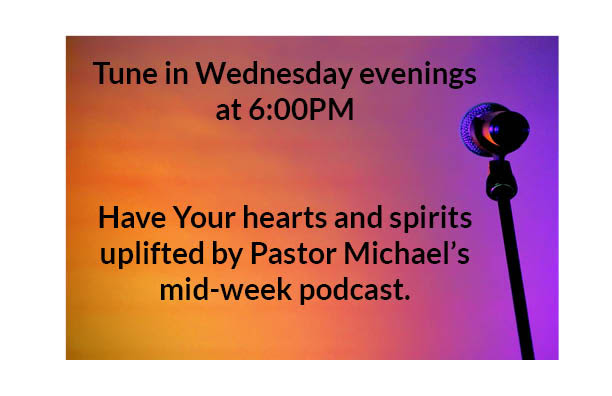 ---
Coffee Talk with Pastor Kyle
If you're available Thursday afternoons between 4:00 and 5:30, I hope you'll hop on Zoom for a virtual hangout and real conversation! Last week we had first-time zoomers and old pros – so I know you can figure it out! If you would like to discuss your thoughts on a devotional, we can do that. If you want to share about how your family is adjusting to Covid, we can talk about that. Or if you want to talk about something else, that'll be ok, too! This is an open invitation for conversation — and I hope you'll be able to join!
–Pastor Kyle
---
NEW THIS SUMMER – Neighborhood VBS Kits!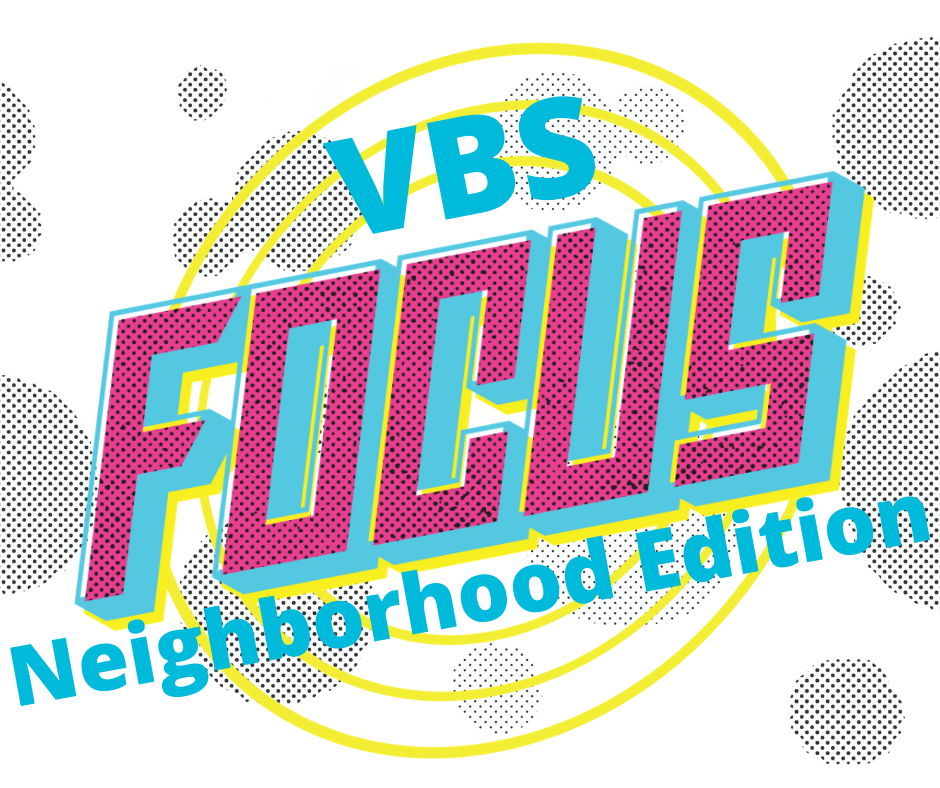 Jesus taught us the greatest commandment is to love God and love our neighbor. This summer we are equipping you to do just this with our FOCUS VBS Neighborhood Edition!
This year instead of asking you to come to us, we are asking you to take the fun to your neighborhood! With FOCUS VBS kids dive deeper into their faith by putting the FOCUS on Loving God. Preschoolers through preteens will have a blast as they discover how to trust in what they CAN'T see because of what they CAN see.
Now what about the Love your neighbor part? This year we are putting together VBS kits with everything you need to gather anywhere from 5-15 kids together in your backyards, front yards, garages, cul-de-sacs and porches – wherever you want –  to experience all the fun VBS has to offer.
With each kit you will receive access to online praise music and bible stories presented in an engaging and relevant way.  In addition, you will receive all the supplies you need for fun crafts, challenging STEM activities and exciting games to reinforce biblical truths kids are learning.
We have put in fun surprise swag for each kid as well as a Host Guide outlining everything you need to know (including fun snack ideas) to make this VBS experience the  best for you and your neighborhood. With each kit registration you will also receive access to live and online training videos from the Next Gen staff to answer any question you may have. It has never been easier to bring faith and fun together in the neighborhood.
In addition to hosting a gathering we have other ways you can VOLUNTEER TO HELP US:
Prayer Partner – You will be assigned a specific neighborhood gathering/family/kids to pray for!
Kit Assembly – Join us at the church in late June (following social distancing recommendations) to assemble all of our VBS Neighborhood Kits!
Craft supply prep work –We provide supplies you help prep in your home! NOTE: one prep item requires you to have a drill.
Volunteer to be assigned to a neighborhood gathering and help the host!
You can see more details about volunteer opportunities and register for your free VBS neighborhood Kit online at www.tiny.cc/focusvbs
Starting June 28th Kits will be available for pick up. We invite you to host your Neighborhood VBS anytime in July! We can't wait to see how much fun you have this summer Loving God and Loving your Neighbor.
---
The Upper Room
We continue to look for new ways to support our members spiritual health.  We are happy to announce that The Upper Room has provided a solution to access their resources. They are providing the May/June 2020 issue of The Upper Room magazine, both in English and Spanish, for download at no cost to you.
---
Tochi Buddies Update
The Tochimizolco Medical Mission was canceled due to the COVID-19 virus approximately a month before the team was scheduled to leave.  The president of the Clinic Board doesn't live in Tochi, and couldn't tell us what the situation was there.  Our prayer is that they are taking preventive measures and staying safe.
The team was very fortunate that American Airlines refunded the airfare completely and Blessings International where we purchase the majority of the medicine we take with us, allowed us to return the medicine for a full refund.
There have been a few Tochi Buddy/Ops donations and they can be returned if requested or stay in the account for the trip in 2021, God willing for the team to go.    Money will be sent for additional medicine in Tochi should they need it to replace what we usually take for their on-going use.  The usual quarterly support for the doctor, dentist and supplies has been sent and will continue to be sent.  Thank you to all who support this mission in prayer and donations and to Grace Church for caring about the people of this small mountainous place in the world.
---
Pastoral & Spiritual Support
---
The Center of Grace
Here's how we at The Center are reaching out to help our community:
Boys and Girls Club is preparing and giving out food for kids 1-18 years old
Monday – Friday:
Breakfast (8:00 – 9:00 am)
Lunch 11:30 am – 1:00 pm
COG is giving free to-go meals on Wednesdays and Thursdays from 5:30 to 6:30 pm
We are distributing personal hygiene kits with bar soap, shampoo, conditioner, lotion, shaving cream, razors, tampons, pads, laundry soap, liquid dish soap, and toilet paper
We are helping Olathe residents with rent and utilities
Here's How You Can Help
Purchase items for the hygiene kits and drop them off*
Make cookies and package them in pairs in baggies and drop them off*
Make a donation to the COVID19 Relief Fund on our website www.centerofgrace.center
*We have a donation cart by the front door, so you don't have to come in.
Thank you for what you are doing to serve our neighbors in need